Outlook for Success Depends on Cuomo Surrogates Cooperation
RIOC Board Frustrated with History of Bad Contracting
Sunday, September 9, 2018 - 16:25
Updated 27 weeks ago
David Stone
Stress guides us to our worst vulnerabilities.
An unexpected consequence of my days as a long distance runner was the discovery of physical shortcomings - a weak knee, stiff ankles, etc. - I never noticed before or weren't bothered by enough to worry. So, too, with RIOC's emphasis on repairs and replacement.
The unreliable joints and poorly designed routines grew more glaringly apparent at RIOC Board meetings last week, with Michael Shinozaki stepping up a campaign of awareness.
Flaws that have gone unnoticed, at least publicly, popped up like eruptions on the landscape of public works. From Blackwell House to Octagon field, they can't be ignored.
Observers of recent Board Meetings have heard Shinozaki questioning contracts brought before the management group for approval, reminding everyone how often staff recommendations have backfired in the past, but on Wednesday evening, it was David Kraut who spoke up first.
Stephen Noone, Assistant Vice President for Capital Planning, requested an increase of more than $750,000 for ongoing repair work at Blackwell House, citing damages undiscovered until repair work was underway, a frequent issue in RIOC contracting. The Board's left with little choice but to approve the expense because not doing so leaves a project permanently incomplete, the money already invested a waste.
Kraut did not dispute the needs as described in detail, but when Noone explained that, after opening up the building's foundation, voids were found and a need for waterproofing.
Waterproofing, both Kraut and Shinozaki noted, had been contracted and paid for under a previous agreement approved for a prior administration. Not just that, Shinozaki elaborated, RIOC also paid a consultant to oversee the work and verify that it was done properly.
It was, as Noone discovered, never done at all.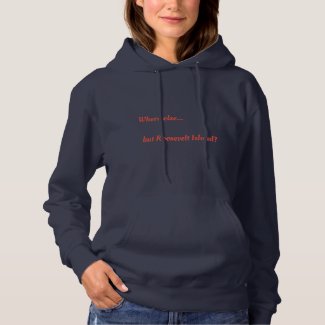 Where else but Roosevelt Island? Hoodie
by
RIDaily
And porch repairs just four years ago were completed with such inferior materials, they need to be done all over again.
Kraut muttered about throwing good money after bad. Shinozaki said RIOC's staff ought to go back and find out what contractors were involved, including consultants, to be certain they weren't used again.
We also learned that more extensive deterioration of the Roosevelt Island Bridge helix went undiscovered - again - until after the work started. Years long delays in repairing the structure, considered critical since at least Steve Shane's administration, ten years ago, resulted in extensive corrosion - and a million and half more dollars than originally approved.
Almost forgotten now, three months after helix construction was projected for completion, is the contractor's failure to have an effective traffic plan in place when work began, resulting in massive traffic jams and Public Safety being forced to use its own officers to rescue drivers.
In a discussion about Blackwell Field, now shut down and fenced off because of safety concerns, Shinozaki noted that damages became more extensive when RIOC failed to repair tears in the artificial surface in a timely fashion. This may have voided a manufacturers guarantee but certainly shortened its life.
The surface cost RIOC $1.8 million, just eight years ago, and was expected to last at least a full decade. It's failure and resulting abrupt field closure was cited as a factor in the closing of Riverwalk Bar & Grill, which owner Jonathan Hoo said caused the loss of 600 customers.
RIOC supported public art also became an issue when Kraut objected to Rosenthal's plan to award $38,000 per year to an "Artist in Residence." Ownership and liability issues haven't been sufficiently considered, and a Board Member for more than 25 years, he recalled how "current decision-makers" frequently leave future administrations hanging with responsibilities they can't ignore.
Continuing the conversation, Shinozaki said that RIOC's history includes committing to artworks that are then neglected. The repeatedly graffiti-scarred Prow on the East Promenade is an example.
The Prow's now graffiti-free and treated with material that's expected to make future cleanups easier, but anyone taking a short walk south can see that Tom Otterness's classic sculptures in the water beneath the East River seawall sport graffiti that's defaced one of them for months.
All this in just two meetings with many more to come as infrastructure upgrades continue.
Here's the troubling part.
Governor Andrew Cuomo has attacked Roosevelt Island democratization by refusing to appoint new Board Members since the outrage he caused by replacing resident Jonathan Kalkin with outsider Sal Ferrara during his first year in charge of RIOC. Scandal soon forced Ferrara out, but Cuomo never replaced him.
Resident representation has shrunk from seven to three. It's been shown, glaringly during the Roosevelt Island Youth Center fiasco, that this enables the State's two ex-officio members to overrule resident sentiment. 
It's tactical and fiercely un-democratic, and rumors persist that Rosenthal, a Cuomo surrogate, wants to rid the Board of remaining members who do not toe the party line. Shinozaki, the Board's most activist member and a frequent critic, is said to be the most vulnerable, although Cuomo's likely to avoid local outrage and bad publicity until he's finished his reelection campaign.
Roosevelt Islanders are fortunate to have the likes of Michael Shinozaki, David Kraut and Howard Polivy, each of whom contribute countless hours and invaluable expertise in support of the community. The tasks are frequently unappreciated and unrewarding.
Imagine how things at RIOC might be if allowed to operate without substantial oversight from the local community. Imagine no one questioning profligate spending and poor contracting. Image Roosevelt Islanders with no more voice in how the community is run.
We already had that, twenty years ago, with the administration Jerome Blue, a George Pataki political appointee hounded out  under a cloud of incompetence and cluelessness. Current concerns underscore the risks of a repeat performance by Andrew Cuomo.
Comments powered by

Disqus
Roosevelt Island: Good Eats, Shopping
Weather Today
Coming Up/Don't Miss Events
Get News, Subway & Tram Alerts Direct To Your Inbox