Secret Findings Discovered in FOIL Request
Breaking: Cancer causing chemicals, hazardous bacteria found in playground fountains
Tuesday, September 18, 2018 - 18:15
Updated 1 year ago
David Stone
The "top New York State health official," Roger C. Sokol, Ph.D, Director of the Division of Environmental Health Protection, NYS Department of Health, goes on to say, "Water test results of two fountains at Capobianco Field showed slightly higher (>738) than normal (500) levels of heterotrophic plate counts which is an indicator of low-chlorine residual. Chlorine is present in all NYC drinking water to reduce bacteria. However, no coliform or E. coli bacteria was found."
The level of coliform bacteria is used by scientists as an indicator of feces and associated hazards, such as viruses, in drinking water.
That was misleading, but it's possible Sokol spoke before seeing the full, troubling report, which RIOC would not receive for another week, presumably because it was not finished.
Objectively, this was a more reasonable approach in what had, so far, been a clown show sponsored by RIOC in which they first responded to disclosures about contaminated water fountains by pulling an unqualified lab out of New Jersey to come up with pleasing results. Bringing in a State certified lab chucked that reckless move into a trash heap where it belonged.
Cancer Causing Methylene Chloride in Two Capobianco Fountains
Sokol goes on about "heterotrophic plate counts," schooling less knowledgeable readers about why they shouldn't be concerned.
He never mentions methylene chloride. But it's there, raw and undisguised in a report received by RIOC a week later, on August 16th.
Was it a prefab lie, ready to lock in as protection for fellow members of Andrew Cuomo's team in election season? We will never know, but the implications are troubling.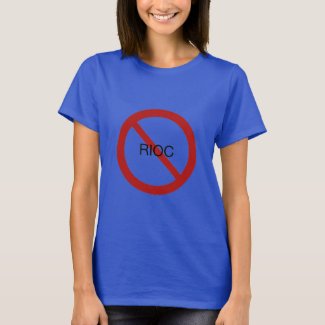 Women's RIOC Must Go Blue T-Shirt
by
RIDaily
Here's what the federal Centers for Disease Control say about methylene chloride: The metabolic pathway in at least one species of these animals is known to be different from that in humans. Nevertheless, on the weight of the evidence, EPA considers methylene chloride a probable human carcinogen. (Bold theirs.)
According to the report by New York State Certified lab Long Island Analytical, submitted to RIOC Director of Asset Management Tamara Andreatta on August 16th, both fountains at Capobianco Field were found "to exceed the maximum contaminant level (of methylene chloride) as set by local, state or federal agencies."
An analyst not connected with RIOC or the lab estimates that the cancer causing chemical exceeded safe levels at a rate of 2180%. 
Cancer's only a piece of the dangers known to be associated with methylene chloride. 
Wikipedia reports: Prolonged skin contact may cause chemical burns. Exposure by any route can cause CNS [Central Nervous System] depression. Ingestion of methylene chloride can cause severe gastrointestinal irritation. Carbon monoxide, a metabolite of methylene chloride, may contribute to delayed toxic effects.
"Symptoms of acute overexposure to   via inhalation include difficulty concentrating, dizziness, fatigue, nausea, headaches, numbness, weakness, and irritation of the upper respiratory tract and eyes. More severe consequences can include suffocation, loss of consciousness, coma, and death.
"DCM is also metabolized by the body to carbon monoxide potentially leading to carbon monoxide poisoning. Acute exposure by inhalation has resulted in optic neuropathy and hepatitis. Prolonged skin contact can result in DCM dissolving some of the fatty tissues in skin, resulting in skin irritation or chemical burns.
"It may be carcinogenic, as it has been linked to cancer of the lungs, liver, and pancreas in laboratory animals. Other animal studies showed breast cancer and salivary gland cancer. Research is not yet clear as to what levels may be carcinogenic."
If you and your children were exposed to methylene chloride and government authorities knew, wouldn't you expect them to release the information immediately?
Not on Roosevelt Island.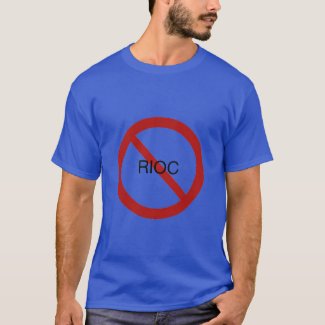 RIOC Must Go Blue T-Shirt
by
RIDaily
RIOC had this information on August 16th, yet they did not release it nor make any public health warning.
Instead, in its August 8th press release, while continuing to maintain that no adverse results were found, they said, "RIOC is planning to meet with Jeff Escobar, president of the Roosevelt Island Residents Association, and other Island leaders, to discuss the results, answer questions and share potential further remediation plans."
This proved, not unexpectedly, to be less than truthful as, nearly a month later, the only "Island leaders" RIOC was willing to meet with were members of the RIRA Common Council, a group that reliably plays fart catcher for RIOC when called upon. 
As we wrote on Saturday, RIOC banned anyone not affiliated with the Common Council, including local media, going as far as publicly humiliating a reporter for the Roosevelt Islander by evicting him after he'd taken a pre-approved seat at a meeting held behind closed doors last Friday.
Then, RIOC's disregard for resident concerns waving like a freak flag, RIOC reneged on a promise to make a recording of the event public. (Under pressure, early last night, the State agency reversed field again and offered up YouTube links to a pair of videos. Editors note: since the meeting was staged and denied open questioning, this newspaper considers the recordings to be of limited reliability.)
There's more...
Disease Causing Bacteria May Be at High Levels
At water fountains in both Lighthouse Park and Southpoint, Long Island Analytic told RIOC that testing showed coliform bacteria that "exceeds the maximum contaminant level (MCL) as set by local, state or federal agencies."
"Fecal coliforms are the group of the total coliforms that are considered to be present specifically in the gut and feces of warm-blooded animals," according to the New York State Department of health.
Adds the State of Washington, "The presence of coliform bacteria in drinking water may indicate a possible presence of harmful, disease-causing organisms."
And, "While coliforms themselves are not normally causes of serious illness, they are easy to culture, and their presence is used to indicate that other pathogenic organisms of fecal origin may be present. Such pathogens include disease-causing bacteria, viruses, or protozoa and many multicellular parasites." (Wikipedia)
That's why authorities sets limits on acceptable coliforms, limits that RIOC exceeded, then kept quiet about it.
High Levels of Iron at Lighthouse Park Fountain
Considering the hazards above, extremely high levels of iron like those found in Lighthouse Park are no laughing matter. However, "While a low level of iron isn't harmful in and of itself, iron in drinking water is classified as a secondary contaminant according to the EPA. ... Iron overload can lead to hemochromatosis, which can lead to liver, heart and pancreatic damage, as well as diabetes."
RIOC, elected officials silent
As of this writing, RIOC has not responded to an emailed request for comment about why information about public health hazards was not disclosed. The email was sent to President/CEO Susan Rosenthal, Vice President/Legal Counsel Jacqueline Flug, Vice of Operations Shelton Haynes, Director of Asset Management Tamara Andreatta and Public Information Officer Alonza Robertson.
Elected officials, Senator José Serrano, Assembly Member Rebecca Seawright and their staffs, all considered fearful of crossing RIOC's leader, Governor Andrew Cuomo, remain similarly silent.
RIOC Water Health Violations, A Broader View
A curious addition to the Long Island Analytic report includes testing done inside RIOC's offices. These show none of the hazards found in the playground and park water fountains. It's a revelation because RIOC's office water is overseen by Westview's building management, the fountains by RIOC. The differences are glaring.
In context, RIOC's disregard for public health and failures in communications and transparency are not out of the ordinary. A State agency without a single elected official that sometimes appears to believe that laws and accountability are for others, RIOC's shown a marked decrease in accountability since Cuomo installed Susan Rosenthal as a replacement for Charlene Indelicato.
RIOC threw up brick walls on all sides when it became clear that they were and had for decades violated federal and local laws about how drinking water is handled to protect the public supply.
Most egregiously, RIOC supplied playground, play field and park water fountains knowingly with irrigation system water. Irrigation system water is, by definition, non potable, that is, unfit for human or animal consumption.
RIOC, indifferent to public concerns, refuses to admit publicly what it knows to be true behind closed doors. Years of risking public health with careless handling of water has not stirred the State to step forward and assume responsibility.
But the problem is two-fold, and the full extent of RIOC violations is not well understood.
State and federal environmental regulations require any group or individual plugging into the public water supply for purposes other than drinking to have approved backflow prevention devices in place and so certified. These devices are intended to prevent a once common cause of illnesses by stopping - in this case - irrigation system water, which may be contaminated with feces, pesticides, virus, bacteria, fungi, etc., from leaking back into the public supply.
RIOC can identify owning only one, installed a decade ago in Southpoint, in all of their systems, from one end of the Island to the other, nor can it produce records of any mandatory annual testing.
Net result: RIOC has put the New York City water supply, including Roosevelt Island and beyond, at risk of everything from coliform bacteria to carcinogens such as those found at Capobianco Field.
The State agency has not acknowledged responsibility or even that the violations have ever existed.
As of last evening, they asked that all questions be directed, not to relevant staff, but to Vice President and Chief Counsel Jacqueline Flug.
Editors note: The Daily thanks Frank Farance for his diligent research and assistance in sorting out the research.
Comments powered by

Disqus
Coming Up/Don't Miss Events
Weather Today
Get News, Subway & Tram Alerts Direct To Your Inbox
Roosevelt Island: Good Eats, Shopping